ADVENTURES IN ROMANCE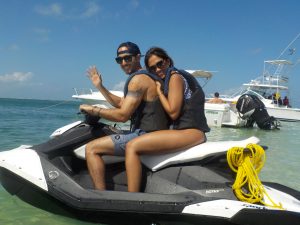 Whether you're a foodie, adventurist, or an incorrigible romantic, Cayman Islands should be at the top of your list for your destination wedding, honeymoon or a romantic getaway with your love. From horseback rides along the beach to kayaking in a luminescent magical blue bay, there are so many incredible experiences just waiting to be discovered.
As  Romance & Destination Wedding Travel Specialist (and Cayman Islands expert!) these are but just a few of my faves for "fun and full of romance" experiences on Grand Cayman.
This is a reprint from an article that I wrote, published in Cayman Vows Magazine – 2018 issue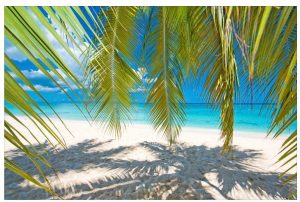 Paddleboard at Sunset
Paddle out into the gorgeous rippling waters of Seven Mile Beach as the sun begins to descend towards its magnificent setting over the horizon. With the gorgeous pink hues of the
sky surrounding you, sit atop your paddleboards, hand in hand as the sun melts into the sea.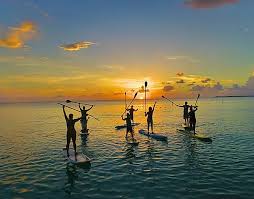 Picnic In The Park
The first national park in the Cayman Islands, Barker's Beach is the definition of unspoiled, surrounded by lush greenery and dense mangroves. Cozy up on this less inhabited beach with a bottle of wine and a picnic basket filled with
local culinary delights. Try out the full face snorkel mask to view some of Cayman's amazing marine inhabitants and pristine waters! Get there early to enjoy the intimate morning peacefulness as dawn unfolds.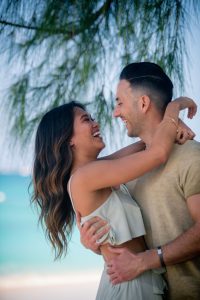 Luna Del Mar
If you plan your visit with the romance of the full moon, you must celebrate at Kaibo's monthly event (Friday nearest the full moon), Luna Del Mar. This experience features feet-in-sand dining and soft romantic music to conjure-up deserted island dreams, all under the light of the full moon and sparkling stars. Your evening culminates by releasing torch lanterns into the evening sky. Congrats,
you are now an official Luna Lover! Reservations a must for this globally-recognized dining experience.
Kaibo kaibo.ky/luna-del-mar
Cayman Ferries caymanferries.com
Departing from Camana Bay, reservations suggested.
Note: Kaibo and Rum Point are known to be home of the famous Mudslide!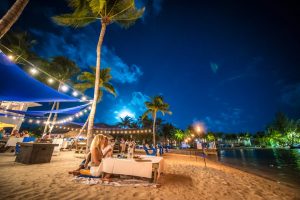 Sun Rise at Smith Cove
Officially known as Smith Barcadere, just south of George Town, Smith Cove is peacefully surrounded
by pristine waters, white sand, limestone formations and coral reefs, making it phenomenal for snorkeling and swimming together. Oh-so-romantic and perfect to enjoy the first welcome of the sun, coffee, and croissants on a cozy beach blanket!
Paperman's Coffee House – Coffee lovers: stop by for your morning java and delicious breakfast items to go.
Jessie's Juice Bar – Indulge in a fresh delicious smoothie on your way back to your hotel or villa!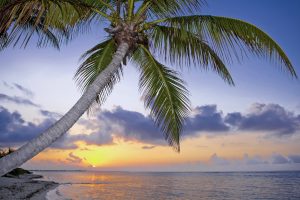 Private Yacht Charter
What could be more luxurious
(and fun!) than experiencing the crystal clear blue waters of the Cayman Islands on an unforgettable, exclusively-yours yacht for the day? Snorkel, jet-ski, sunbathe and relax while you're pampered on board. Skip the crowds and get an intimate front row seat to Grand Cayman's most notable ambassadors, the Stingrays!
Cayman Luxury Charters caymanluxurycharters.com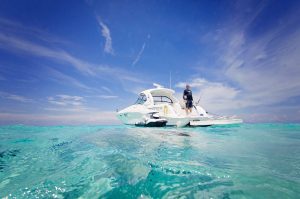 Shop, Dine, and Play
Have a romantic evening at Camana Bay, Grand Cayman's lively waterfront town. Stroll through this modern outdoor complex with its cobblestone streets, retail therapy, and fun local vibes. Foodies will love The Flavour Tour beginning at West Indies Wine Co to local restaurants, ending
with a delightful finale at Gelato
& Co. Be sure to climb the (free!)360-degree views of the island. Great romantic photo opportunities here with staircase murals creatively formed from glistening Venetian tiles!
Camana Bay camanabay.com
Sea Turtles at Spotts Beach
Watch the sea turtles swim around your feet as you sit at the end of the pier and take in the natural beauty of the island. Once the sun sets, lay back and watch the stars as they begin their evening sparkle.
Marshall's Rent-A-Car marshalls.ky
Ride out there in an open-air jeep or mini cooper rental!
Note: Visitors are required to purchase a Visitor Driving Permit ($20 per driver, purchase at the time of rental).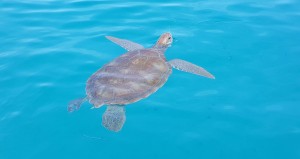 Private Dining on the Beach
The Cayman Islands are known worldwide for their cuisine and award-winning chefs. Imagine stepping
out of your oceanfront villa, toes in the sand, walking hand-in-hand to
a private dining cabana bathed in candlelight and soft music. A special meal awaits, prepared exclusively for you by one Cayman's private chefs. Toast your love with champagne in hand as the sun sets and the sky glows mesmerizing shades of pink. Bon appetit!
Luxury Cayman Villas luxurycaymanvillas.comExquisite private villas offering amazing experiences, complete with private chef options!
Also offering romantic beachside dining experiences:
Caribbean Club caribclub.com
Luca Restaurant luca.ky
All villa boutique hotel with private beach dining.
The Ritz-Carlton Grand Cayman ritzcarlton.com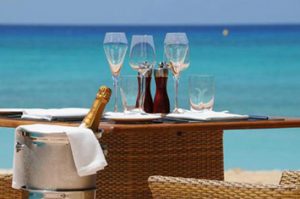 A Trusted Travel Advisor has all of the best info, ideas and contacts to make your romantic travel experience the best!